Technology has come a long way in the last 25 years! Information systems, like mainframes, have been around much longer. However, the advent of the internet, client-server networks, mobile applications, and now artificial intelligence and machine learning have led to considerable advances in business process and capabilities.
That said, there's no arguing the fact that successful businesses today are heavily augmented by technology. Not surprisingly, some businesses are fanatical in their adoption of technology, while others are more cautious. Below is a visual representation of the innovation adoption lifecycle.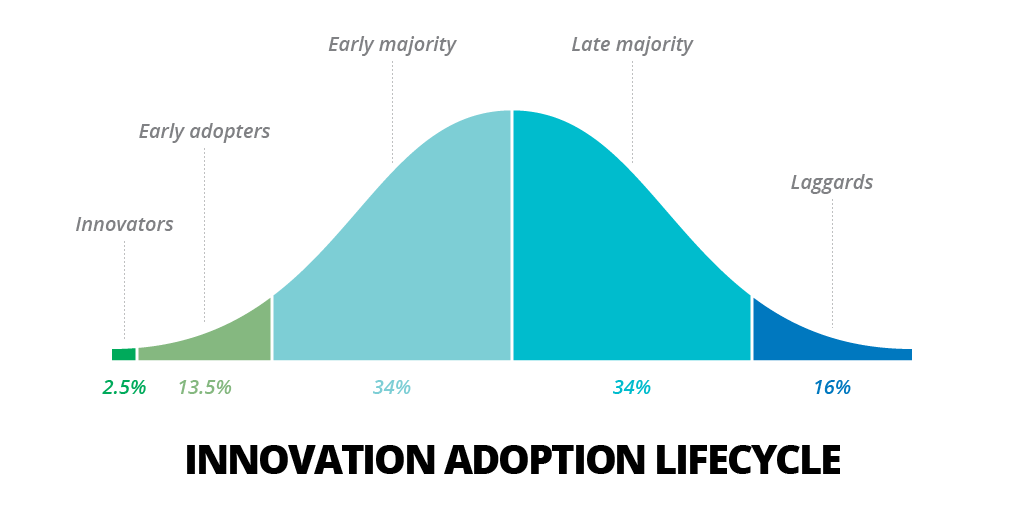 As shown above, only 50% of companies are on the leading edge of early technology adoption. We'd argue that the best companies are innovators and early adopters. These companies demonstrate their commitment to testing new technologies to improve their ability to delight customers, enhance productivity, and ultimately gain market share. Those on the back half of this bell-shaped curve will struggle to keep pace with a leaner, more tech-centric and innovative business. This is true of any industry, including the recruiting industry!
Suffice it to say, your recruiter's technology stack should support the following tasks:
Allow for the integration of (multiple) disparate systems
Simplify the development and upkeep of applicant workflow
Automate manual tasks (such as creating records, recruiter follow-up, and creating job ads)
Provide reports/metrics, cleansing/updating key data elements
Allow for multiple channels of communication (email, phone, text, social media, & mobile alerts)
If the agency you are considering fails to have these capabilities it is likely they are bogged down with routine, time-consuming tasks. This prevents them from focusing on critical recruiting activities, which include sourcing, screening, and submitting candidates for your open jobs. Here are some of the advantages of engaging an agency with an innovation mindset.
Increase Candidate Pool
Job boards alone are not enough to fill jobs quickly, or for ensuring you have the best pool of candidates to consider. In addition to job boards and advertisements, leading recruiting firms have integrated their disparate systems through APIs (application programming interfaces). APIs make it easier to move information in and out of disparate systems, which significantly improves recruiting and sourcing. For example, an API allows a recruiter to source candidates from LinkedIn (as well as other data sources) and seamlessly import qualified lists of candidates into outreach platforms. Once imported, an automated sequence and cadence can begin, saving additional time.
With yet another API, that same set of candidates can be imported into the recruiter's Applicant Tracking System (ATS). The API can then automatically create a new candidate and applicant record for a specific job. API's considerably improve efficiency by eliminating much of the manual aspects of a recruiter's job. They allow the recruiter to focus on value-added tasks like sourcing additional applicants for consideration, following up with and screening their best candidates, and presenting candidates to the client/hiring manager for further screening. Without API's a recruiter's effectiveness is dramatically diminished. Deficient recruiting technology and processes will protract your search leading to negative impact on cost, time to fill, and customer satisfaction.
Improve Fill Times
With the right technical stack, recruiters can improve fill times through the creation of multi-channel communication sequences. These sequences include a combination of email, text, phone, social, and mobile push notifications. This strategy is designed to automate, as well as improve candidate engagement. Some candidates may prefer email over text. Others may prefer a phone call, and yet others are quicker to respond to direct messages via social media or email. The best recruiting firms have technologies that automate their outreach using a proven blend of communication options. This approach ensures no candidate slips through the cracks.
Automation and diversity of communication channels have a huge impact on candidate engagement and improved fill times. If your recruiter's ATS doesn't offer these features natively, then they should have integrations with third party systems to help ease the burden of historically manual processes.
Improve Customer and Candidate Engagement and Satisfaction
Technology by itself is benign. Technology applied to proven processes, though, are extremely powerful. To manage a robust candidate pipeline, the best recruiting firms will have a well-defined applicant workflow. This may include multiple stages with sub-stages that keep track of each applicant at their various stages of engagement. The workflow should help a recruiter focus their time and energy on the very best candidates. An organized applicant workflow should also provide insights into the ratio of active and passive candidates, disposition reasons, and the current stage of each candidate. Streamlined workflows make it easy to follow up with and communicate with very candidates in the recruiting process (individually or in mass).
Examples of Modern Recruiting Technology
Application Programming Interface (API)
If you are considering a software to help support your business, one of the key questions to ask is, "Do you have an open API?" If the answer is yes, then you'll want to know what systems are already integrated and what is on the integration roadmap.
Robotic Process Automation
Pre-defined business rules drive automatic follow up on a number of tasks. These include email, workflow status updating, data cleansing, and many others. RPA is usually defined by a "if this, then that" type of programming. It is highly effective when a job involves repetitive tasks.
Marketing Automation
These systems engage your target buyer personas (prospects). They also allow for engagement/lead scoring to grade the recipient's response to your content. Marketing automation takes your prospect on a 'buyer journey' to move them from awareness to consideration, to purchase, and finally to advocacy.
Applicant Tracking Systems
While ATS platforms have been out for decades, picking the right one is no small task. Things to consider are customer/tech support, product roadmap, ease of use, custom configurability, administrative/security management, reporting and BI, and feature enhancement portal.
Business Intelligence
Strong BI allows you to pull data from various sources via an API (or manual data import) and present the data in a "visual analytic" on a dashboard that helps easily tell a story.
Texting Engines
An ATS should have a native texting engine or an integration with one. Texting has replaced email as the simplest way to communicate.
Email Automation Engines
If your ATS doesn't offer native sequencing capabilities, then automating can likely be achieved through an API. Email is still highly effective for communicating with certain audiences, and it shouldn't be ignored regardless.
Social Media Messaging
Manually posting to your feeds is a huge waste of time, especially knowing that there are some tools out there that can automate your social media posting and can be used to feed curated content for multiple people in the organization. It's great for branding and staying at the forefront of your prospects' mind.
Customer/Candidate Engagement Scoring
Feedback is king, as we've indicated in a previous blog post about the importance of reputation. Like with many of the aforementioned capabilities, this process can be automated and triggered automatically by some simple business rules.
Time & Project Management Tools
There are numerous web tools and mobile apps that are excellent for helping manage strategic planning, project management & deliverables, and prioritization of simple executables like to-do's.
Chrome Extensions & Add-Ins
Many of the tools discussed in this article provide added functionality with Add-Ins and Chrome Extensions, making it easy to initiate an activity from your inbox or from a chrome browser (or tab).
Cloud Based Phone Systems
VoIP and the advent of cloud phone systems brings added functionality to the mainstay of a recruiter's technical stack (the telephone). Some systems provide built-in video conferencing and texting, mobile applications, and well as simply making phone calls. If you have a literal phone on your desk, you are in the dark ages of telecommunication. Ideally, your phone system has an API that can be easily integrated with an ATS. Tracking calls and activities are now automated through the use of an API.